Colleges That Change Lives

by Loren Pope and Hilary Masell Oswald
Often students fall through the cracks at the well-known schools, but the Colleges That Change Lives are nurturing environments that do not let students become just a number. These schools have much better track records for having their students accepted into first choice graduate programs. Even though some of these schools have become quite popular from inclusion in this book, they still accept other than straight A students, because they firmly believe in the learning experience gained from the academic mix of students.
Looking Beyond the Ivy League

by Loren Pope
Now fully revised and updated, Looking Beyond the Ivy League offers a step-by-step guide to selecting the right institution, a checklist of specific questions to ask when visiting a college, the secrets to creating good applications and good applicants, and much more. With as few as one-third of college students remaining at the institution they entered as freshmen, finding the right college is harder than ever before. This book makes it easier for students and their parents.
Kaplan Paying for College

by Gail A. Schlachter
Paying for College: Lowering the Cost of Higher Education is a book that literally pays for itself and then some. Guiding readers through the basics of college financial aid, making the most of one's money, navigating the process of applying for assistance, calculating one's need, evaluating aid packages, and much more, Paying for College uses easy-to-follow language and step-by-step how-to instructions to simply a complex process. A wealth of additional resources, including a website reference list, EFC worksheets, and sample appeal letters round out this "must-have" for every college applicant who isn't independently wealthy!
1001 Ways to Pay for College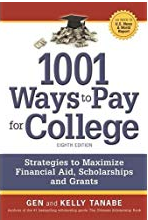 by Gen Tanabe and Kelly Tanabe
Balancing detailed explanations with real-life examples and practical resources, the featured topics include finding and winning scholarships, requesting a reassessment from colleges for more financial aid, maximizing assistance from state and federal governments, taking advantage of educational tax breaks, and benefiting from government-subsidized student loans. Creative strategies—such as starting profitable dorm-room enterprises, trading tuition costs for volunteer service, and canceling debts with loan-repayment programs—help students find extra money when more traditional routes are exhausted.
The Complete Idiot's Guide to Financial Aid for College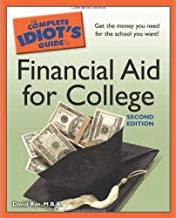 by David Rye
This comprehensive, fully updated edition shows readers how to get scholarships, find the best financial aid packages for academic or sports skills, improve one's chances of receiving financial aid, take advantage of the new tax laws to build a college savings plan, and much more. Also includes a newly updated yellow-pages directory with names, addresses, and information on where to inquire and how to apply for financial aid.
---
Links to outside resources are for informational purposes only.  The views and opinions expressed in any of the above publications are those of the author and may not accurately reflect those of The Collegefunding Coach®, or its affiliated companies.