Be on the lookout for our upcoming book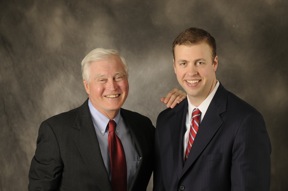 Brock Jolly has teamed up with Peter Cary, the former managing editor of U.S. News & World Report, to work on two monumental projects.
Peter brings experience as one of the pioneers of the U.S. News & World Report College Rankings program, which has become a critical piece of the college decision-making process for many families.
In addition, he is currently in the same shoes of many of our families—he was a participant in our class in 2008, and has one son currently in his freshman year of college and another son who is a junior in high school, preparing to make the leap to college very soon.
Brock and Peter are currently in the process of creating a brand new workbook that will be utilized in our class, Little-Known Secrets of Paying for College.  In addition, they have begun working on a book that should be published in 2014 if all goes according to schedule. Stay tuned for details!